DEP 250 Water Filtration Unit
DEP 250 Water Filtration Unit by Sigma is also referred to as The "DEP" water filtration system which solves the dirty water problems created by cutting and grinding stone in accordance with the environmental laws. The clarified water can either be safely sent down the drain or recycled back to the saw and the dried mud can be easily thrown away.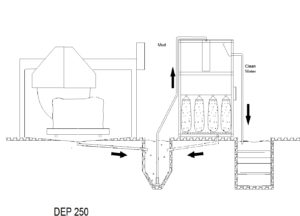 The clarification of muddy water takes place by separating the mud from the water by using filter bags. It is possible to use chemical additives. Once filled with the dried mud the bags can be discarded.
The clarification procedure will cause a thickening of semi-liquid mud at the bottom of the hopper. The sludge will then be extracted and dehydrated through the filtering bags making it ready to be discharged. In brief, the "DEP" system completely solves both problems about water clarification and getting rid of the mud.
SPECIAL DESIGNS AVAILABLE UPON REQUEST.
PLEASE CALL FOR PRICING.
Eastern Marble & Granite Supply is your complete online connection for everything Marble & Stone. When people think of our company, they refer to us as the "The Stone Care Experts " with good reason. Eastern Marble & Granite Supply has over 50 years of experience servicing the construction and building industry and has gained an excellent reputation. When it comes to Marble and Stone, we believe it is critical to enhancing the beauty of natural materials without damaging the surface so it can be enjoyed for generations.
Eastern Marble & Granite Supply offers a wide range of supplies and machinery suitable for all types of Marble, Granite, and Natural Stone, so if you are looking for supplies and machinery, you have come to the right place.
Please Visit our full selection of Stone Fabrication supplies here
Please view our full line of Water Filtration Systems
Easten Marble and Granite Supply offers a full line of products necessary for the care of all natural stone products. Please shop our site store for a complete listing of products, for easy reference please refer to the followin:
Additional Quick Links: