Description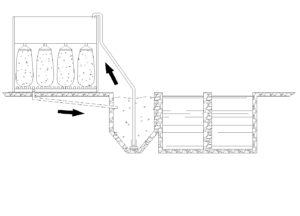 The DS 40 water filtration system solves the dirty water problems created by cutting and grinding stone in accordance with the environmental laws. The clarified water can either be safely sent down the drain or recycled back to the saw and the dried mud can be easily thrown away.

The mud which is drained into the pit is pumped up to a hopper and filtered through the bags.
At this point, the clarified water seeps out of the bag, and the dried mud is kept inside the bag itself.
Once the bag is completely full it is taken out to the dumpster.
PLEASE CALL FOR PRICING.